When your organization needs focused expertise and Next Level breakthroughs, we offer a proven methodology for helping you select and successfully execute your highest value strategies.
Next Level International creates exceptional value for our customers through our exclusive
Challenge-Based Consulting
, which tailors each project to achieve specific client objectives. Every new market is a different challenge for our clients. Our Challenge-Based Consulting maps out business opportunities, custom market strategies, and proven market-entry programs that profitably acquire new customers and yield the best possible ROI.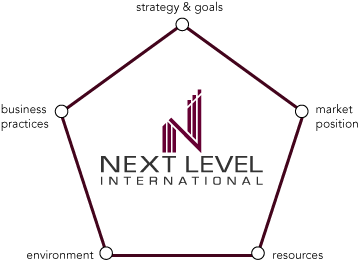 Next Level often delivers eye-opening results, with the following:

Strategic Positioning—We review your strategic positioning and evaluate how to leverage your current positioning to expand into new markets.

Business Planning—Next Level analyzes market entry opportunities and develops integrated business plans that evaluate costs, risks, opportunities.

Quantitative Research—Fact-based analysis often requires customized research to measure market entry opportunities. Next Level can swiftly tailor research programs to target the right opportunities.

Qualitative Research—Focus groups, content analysis and surveys of opinion leaders provide qualitative insights into potential opportunities. Next Level designs its research programs to provide insight and actionable information.

Market Sizing—Understanding of the size of the market opportunities is essential. Next Level analyzes market opportunities so you can focus your resources on the most attractive return-on-investment.

Competitive Analysis—Most companies understand their existing competitors, but understanding potential competitors in new markets requires a different framework. Next Level helps companies understand how they can gain share in a new market.

Product Assessment—Companies often have products that, if enhanced and repackaged, could address a new market. Next Level helps evolve existing products for entry into alternative markets.

Channel Identification—Next Level analyzes channel opportunities to uncover new manufacturing and distribution partners.

Launch Planning—Next Level develops market messages, defines launch plans and implements programs for rapid revenue growth.

Want to find out more about how we can help you enter new markets? Then contact Next Level to schedule an introductory meeting. We'll listen to your market challenges.